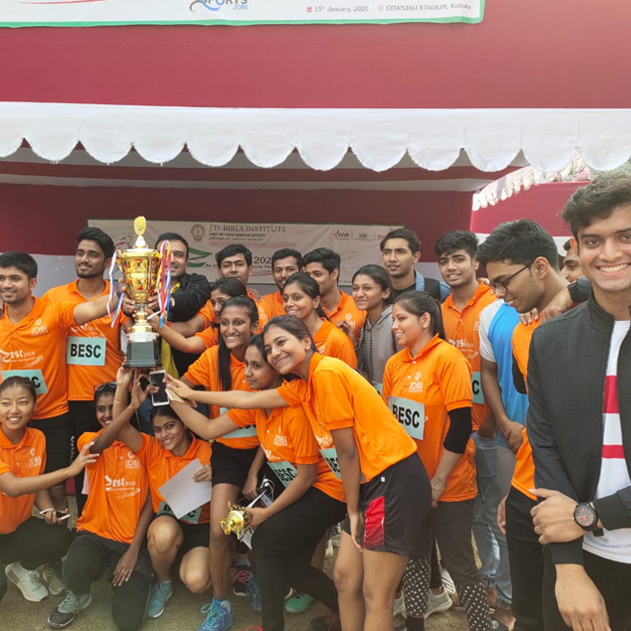 Inter-College Athletics Meet- Zest 2020
We all know that "All work and no play makes Jack a dull boy". Not only does it avert him from being dull, sports also teaches Jack about teamwork and sportsmanship. Similarly, sports not only gives us a break from the mundane events of life but also teaches important values of life.
The Bhawanipur education Society College participated in ZEST 2020, an inter-college Athletics Meet organized by J.D. Birla Institute on 15thJanuary2020 at The Gitanjali Stadium. There were 6 colleges that participated in this event, wherein each student was amped up with the desire to set a benchmark in the competition. A total of 15events were conducted which included the participation of the teaching and the non-teaching staff as well.
From BESC alone, there were 35participants who bagged prizes for 10events out of 12events Bikram Prasad bagged the 1st position for 100m Flat race boys and Saparya Chakraborty got 1st Prize for 100m Flat Race girls. Sana-e-Sahar, Saparya Chakraborty,Kelsang and Mandira Gupta bagged the 1st Position in 400m Relay Race for Girls. 1st prize for 100m Relay Race boys(With a twist)was won by Rohit Kaushik, Deboyoti Majumder, Shreyansh Daga and Furqaan Yousuf. Navam Shah and Utkarsh Ojha won the 1st prize for 75m Take and Pass Race Boys. Jyoti Gorai and Aarshi Roy Choudhury won the 1st prize for 75m Quick Change Race girls. Hasti Mehta, Shaista Khanan Sonia Yasmin and Mandira Gupta bagged the 1stpostion for 75m Over Under Race Girls. And Megha Mishra bagged the 1st prize for 75m Shoe Hunt race Girls.
Bikram Prasad bagged the 3rd Position for 200m Flat race Boys. And Russel Siraj, Sakib Sahriwar, Subhajit Chanda and Debojyoti Majumdar got home 3rd prize for 400m Relay Race Boys.
BESC brought home the prize for Overall 1st Position in this competition.
Winners are those who not only win prizes but also win hearts. The memorable moment was when in a staff race one of our representatives Sajal Samanta secured 1st position to another senior staff member of JD Birla Institution who was to retire this year. Sajal Da generously exchanged places with him and gracefully gave away his trophy. Such examples of respect and consideration is what education is all about. Sajal Da did not only win the event but also won hearts.
Reporter: Ashna Saini
Photographer: Kishan Bagaria