The Bhawanipur Education Society College
50+ years in pursuit of excellence
The Bhawanipur Education Society College was founded in 1966 with the motto "Education for Excellence" through the Bhawanipur Gujarati Education Society. Accredited by NAAC and affiliated to the University of Calcutta, BESC was created under Article 30 (1) of the Indian Constitution, which guarantees linguistic minorities, such as the Gujarati-speaking community in Kolkata, the right to establish and administer educational institutions of their choice. We started in 1966 with less than a hundred students, but in the decades since, BESC has strived to extend its motto to a truly diverse body of students, admitting eligible pupils regardless of linguistic, religious or regional backgrounds.
Established and administered by The Bhawanipur Gujarati Education Society. A minority-run institution. Affiliated to the University of Calcutta. Recognised under section 2(f) & 12(B) of the UGC Act, 1956.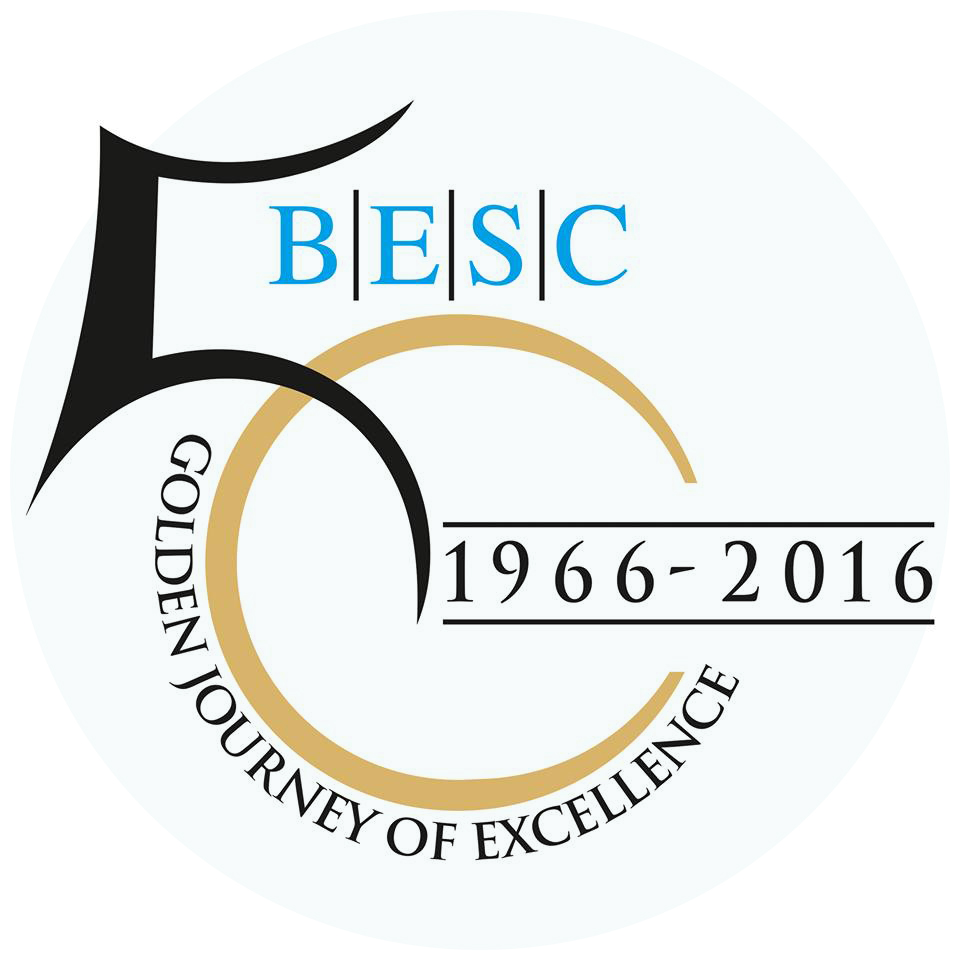 BESC offers several undergraduate Honours programmes in Arts, Commerce, Management and Science, as well as postgraduate courses in English and Commerce. BESC also runs career-oriented courses like Commerce+, Association of Chartered Certified Accountants (ACCA), Certified Financial Planner (CFP), Corporate Communications, Capital Market, Cyber Security and Global Management Skills, which takes students beyond the rigid framework of a syllabus. With 18 Knowledge Circles, ranging from dance and music to entrepreneurship, Model United Nations (MUN), AISEC, CII-Yuva, Leadership Training and more, BESC provides holistic development for students.
BESC boasts of a Wi-Fi-enabled, temperature-controlled, state-of-the-art campus with smart classrooms, a 5,000 sq. ft library, an indoor sports arena that offers a plethora of gaming facilities, an artificially turfed central court, multiple auditoriums and a friendly canteen.
Students can choose from a range of additional activities during the academic year, including workshops, seminars, research, industrial visits, historical walks and fests for their social awareness and enrichment.
The institution has today evolved into a multidisciplinary, multicultural and multi-ethnic entity. Our USP is the diversity of the student body. Our students are self-motivated go-getters and it is their ability to stretch the limits of possibilities, under supervision and guidance of an engaged faculty and administration, that sets them apart. We are committed to continuously upgrade and supplement our curriculum to provide our students with skills that will prepare them for their professions and for life.
At The Bhawanipur Education Society College, it's not just a degree but a pathway to success.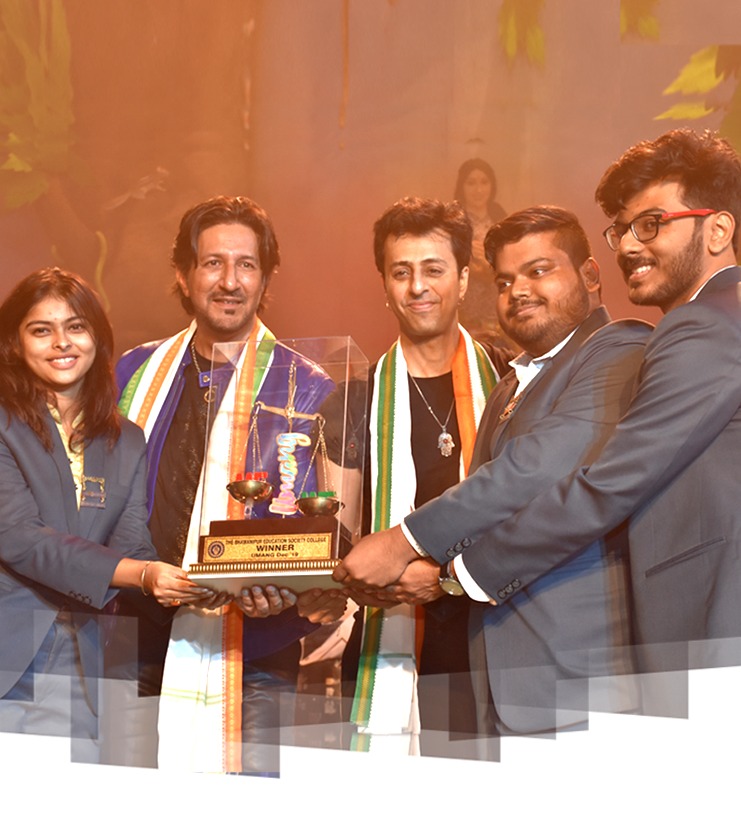 Vidyamritamshnutey
Drinking the nectar of knowledge.
Our Vision
Preserving Gujarati cultural and linguistic heritage and ensuring all-round excellence and employability through value-based and value-added education.
Our Mission
Adopting the best practices and highest quality of teaching through continuous innovations in teaching-learning methods and upgrading infrastructure and nurturing pride in cultural and linguistic traditions.
Honing the innate skills of the students, with a special emphasis on girls, by imparting leadership and entrepreneurship skills through exposure to practical situations and co-curricular activities.
Equipping students to meet life challenges by developing communication skills and strength of personality through industry interface and mentoring.
Aiding the quest for intellectual excellence of teachers and igniting the desire for lifelong learning among students by encouraging research and creativity.
Developing a healthy cooperation with other institutions engaged in promoting educational excellence.
Core Values
Unleashing Potential: Our aim is to work unanimously towards unleashing the inherent intellectual, social and emotional capacities of all students who pass through the gates of this institution.
Student-Centred Initiatives: We are committed to education and innovation that serves the changing needs of students in a fast-evolving environment and cater to their future career growth in synergy with the needs of society.
Nurturing Learning for Leadership: Our endeavour is to foster lifelong learning and nurture intellectual curiosity by integrating teaching, research and skill development so that those graduating from this institution become thought leaders and are aware of civic duties and the socio-economic challenges of our times.
Pursuit of Excellence: We are dedicated to the pursuit of excellence within the campus community, enabled by assessing and rewarding achievements in teaching, research, scholarship, creative activity and service to society.
Embracing Diversity: We embrace diversity in all its dimensions and believe that mutual respect for individuality and including all within a common sphere of hope and aspiration are vital for both personal and institutional success.
Service to Humanity: We support and appreciate the idea of service at all levels and seek to instil this spirit in each and every one associated with us. We strive to contribute positively to the society, the state, the nation and the world.
Upholding Integrity: High standards of character and integrity are the foundations upon which the institution is built.
From The Desk Of The Teacher-In-Charge
The Bhawanipur Education Society College, established in 1966, is a minority-run, general degree college, offering B.Com., B.A., B.Sc., B.B.A., M.Com. and M.A. programmes. We are committed to providing education that empowers the students for their future. We strive to provide the best educational facilities, along with co-curricular programmes, designed to impart life skills to the students.
Our campus life is vibrant and inclusive, embracing students from all segments, regardless of their religious, linguistic, economic, or gender identities. Our founding principle, Vidyamritamshnutey, recognises the power of education in transforming lives, while our mission—education for excellence—is an integral part of the policies we adopt. We believe in providing our students with up-to-date infrastructural facilities, well-qualified teachers, a modern library with an array of online resources and regular programmes for skill enhancement as well as social awareness. This enriches the overall development of our prospective graduates and helps to bring out their innate potential in diverse fields.
Dr. Subhabrata Gangopadhyay
Teacher-in-Charge