WEBINAR ON DIVIDEND POLICY BY THE INSTITUTE OF CHARTERED ACCOUNTANTS OF INDIA
We are glad to invite you to a webinar on dividend distribution policy. This is being done in collaboration with The Institute of Chartered Accountants of India EIRC.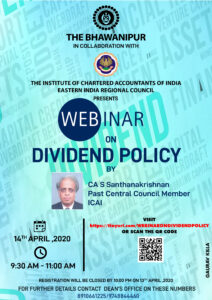 In order to attain the Webinar, it is mandatory to register yourself  by filling up both the forms given in the below link
Please Note: The registration link closes by 10:00 pm Monday, 13th April,2020.