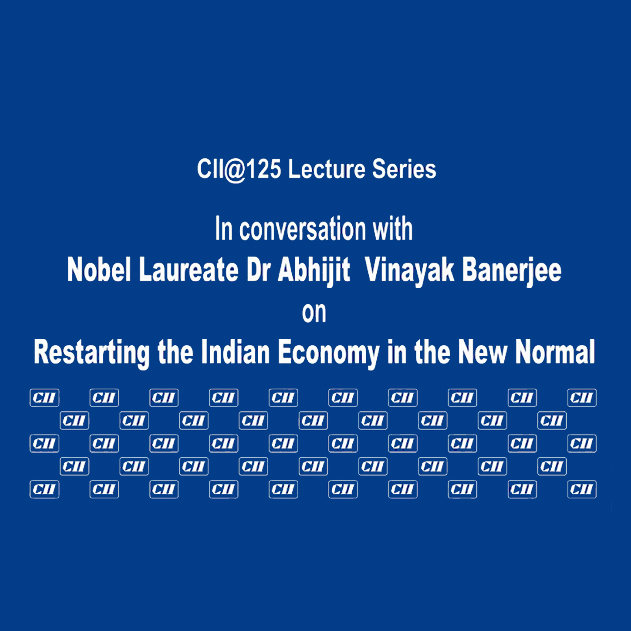 Webinar on "Restarting the Indian Economy in the New Normal" with Nobel Laureate Dr.Abhijit Vinayak Banerjee
CII along with The Bhawanipur College as the education partner is proud to present an opportunity to hear and converse with the Nobel Laureate Dr.Abhijit Vinayak Banerjee on , "Restarting the Indian Economy in the New Normal" along with eminent speakers on 22nd May, 2020
The impact of the COVID-19 pandemic on the global economy has placed business leaders in an unprecedented state of uncertainty. Decision-makers in companies and government are struggling to understand the new challenges we face and to determine what course of action needs to be taken.
Government has already declared a financial package of Rupees Twenty Lakh Crores to revive the economy and promote self-reliance. But will this support be enough to generate demand within the economy? How will the marginal population survive the pandemic? What are the industries or sectors that will navigate the economy in near future?  What should be done now ? These questions are lingering in the mind of the students.
To deliberate on these uncertainties, The Confederation of Indian Industry (CII) organised a session in collaboration with The Bhawanipur Education Society College as its Education Partners featuring Nobel Laureate Dr. Abhijit Vinayak Banerjee on Friday, 22nd May, 2020 from 6:30pm – 08:00pm. The panel for the webinar included Dr Naushad Forbes, Past President, CII and Co-Chairman, Forbes Marshall as the moderator; Mr. Chandrajit Banerjee, Director General, CII; Mr. C S Ghosh , Past Chairman , CII ER and MD & CEO , Bandhan Bank; along with Prof.Dilip Shah, Dean of Student Affairs, The Bhawanipur Education Society College. More than 100 students and professors attended the webinar and had an enriching session.
The webinar commenced sharp at 6:30pm with Mr. Chandrajit Banerjee welcoming all panellists and attendees. After  Mr. Chandrajit Banerjee explained the flow of events,  Dr Naushad Forbes took over the webinar as a moderator by inquiring Dr.Abhijit Vinayak Banerjee about his views on the current situation. Dr.Forbes emphasised that the health crisis is unprecedented in its strength and in its nature. He further enquired Dr. Banerjee on how he imagines the world would be in 12 months.
Dr.Banerjee aptly replied to his queries by stating , " Another word that goes with unprecedented is unexplored." In his views , more local reporting of the cases should be done. Zones should be further subdivided in order to estimate the spread of the virus more accurately. He further said that more authority should be given into the hands of district and ground level bodies as they connect with the citizens more easily and effectively.
The next question that was presented on the floor was " If Dr. Banerjee were to be in the PMO today , what would his steps be in the fight against COVID-19 ? ". To this Dr. Banerjee replied that he would implement the policy of " One Nation One Ration ". Dr. Banerjee was of the view that more efforts should be made on how can the basic needs of migrant labours be adjusted. He said that construction sites should have housed the labourers instead of letting them migrate. Even if lockdown was imposed, work paused, labourers could have stayed at the sites , this in turn would have led to less migrant labourers seeking shelter.
CS Ghosh next inquired Dr.Banerjee on what can be done in the Indian Banking System , to which he received the reply that the system still needs to be educated well. Dr.Banerjee said that the Indian Banking System has not changed much. In his views the banks should keep a proper track of loans provided , especially to blue chip companies. Financial Statements and actions of such companies should be tracked regularly and that the banks should not wait for these blue chip companies to declare themselves insolvent or to turn into red chip companies. He further spoke that integration of the whole banking infrastructure is important.
Next he spoke on how necessary it is for India to build a system where the workers in the informal sector can be recorded since as of now there are no official records of the self-employed workers. He further highlighted that India needs to build up its healthcare sector, especially local health infrastructure,  in a better way. PPEs should be made available . Moreover he advised that India should have a core group of people who are trained to handle or manage a public health crisis. Next Dr.Forbes requested Prof.Dilip Shah to put forward his question but due to severe network connectivity issues, an after effect of the Amphan Cyclone, the question could not be asked.
The last section of the conversation involved Dr. Banerjee saying that India currently needs a fiscal policy measure instead of a monetary one as only a fiscal measure can save from Deflation and as known to all, facing Deflation is worse than facing Inflation. The finale question asked was what can 2020 graduates do in the current market scenario? , to which Dr.Banerjee said that the graduates should currently act on their impulse, educate themselves as per the current scenario and may look for a career in the public sector.
The webinar ended with Dr. Abhijit Vinayak Banerjee stating that currently India needs to be in high public spirits.
The student co-ordinators of the webinar were Mrigank Agarwal (B.Sc Economics , third year ) and Kashish Burman (B.Sc Economics , second year ) while the first year volunteers included Arpana Gupta, Aditya Agarwal and Sukanya Biswas who took up the initiative to call all registrants and check on their scenario after the cyclone.